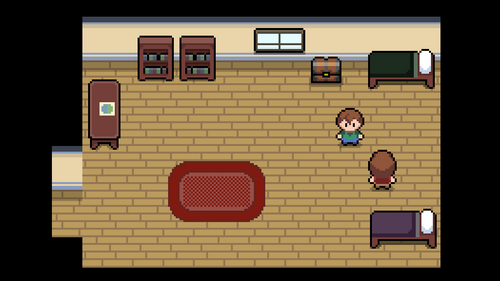 The purpose of our Countdown series of blog posts is to share exciting news about our game as we countdown to our Kickstarter campaign. There will be 10 posts detailing the process, decisions we've made, insights into design and development, and more.
What a week! We're gearing up for our pitch to Square Enix's Collective platform — yes, the Square Enix of Final Fantasy and Kingdom Hearts fame — and it has been crazy. I'll start by explaining what Collective is and then I'll share what we've done in preparation.
What is Square Enix Collective (SEC)?
Collective is a platform that Square Enix has built to help provide support for indie game developers. Their support comes in many forms such as helping devs build a community around their game and giving feedback. The way it works is: every month, developers pitch their game to SEC, then SEC decides which pitches they want to promote. If the game is selected, the community surrounding Collective will get to vote on whether or not they would support the project. During this phase, the developers also receive feedback on their game. If the votes go in favor of supporting the game, Square Enix may move forward with helping support the game through other means.
Why would we pitch to Collective?
We see this platform as an amazing opportunity to leverage the power of the Square Enix community to gain awareness of our project and to receive crucial feedback. On top of all that, Square Enix's games like Final Fantasy and Secret of Mana have been integral influences on our game, so we believe the community around Collective could be the perfect audience to provide the feedback we're looking for.
If we were to be selected by Square Enix to be promoted through Collective, that would be some amazing validation of our idea and all that we've done so far with Steadfast. It would also give us some much needed feedback and opinions on the game. If we are not selected, we would have a better understanding of the standard for where our game would need to be to be successful and give us a measurement of how far away we are from that standard. So, whether we are selected or not, we see this as a fantastic milestone for our project.
Preparation
So, preparation for our pitch has been pretty hectic, but extremely rewarding. Here's a look at some of the things we've been up to:
Demo
Though we were able to playtest a few weeks back with a short demo, the demo was not complete, had many disturbing bugs, and was pretty bare bones. Since we knew we wanted to include the demo with our pitch, we worked so hard to finish it to the point where it felt near-fully developed (I don't know that the game would ever feel completely done). Tweaking, creating, and testing has consumed many hours over the last week.
This demo is now available to the public! Check it out here! Please remember to give us feedback when you're done!
Pitch
Aside from the actual game development, we had to write the copy for our pitch. At 979 words, it's the most copy we've written about our game for "marketing" purposes.
Assets
We needed tons of screenshots, gifs, and videos for the pitch so that we can present everything we have to our audience. We had to re-prioritize many scenes we were already working on so that we could present a more complete view of our game. We also created some new music for the demo!
Conclusion
Ultimately, all this work was difficult (especially considering the timeline) but it was also massively rewarding to be able to have all this content for future use. The demo is now available for more people to get their hands on the game. The content used for the pitch will be useful for other marketing avenues like our Kickstarter campaign, and the game is a lot further along due to the effort we put in to get this pitch ready. We look forward to hearing back from Square Enix Collective and will keep you posted via the normal communication channels.
Speaking of which, we have set up an email newsletter! Sign up to keep up with all of our latest developments by going to our website.
Thanks for being awesome!